Easter floral arrangements represents an inexpensive way of decorating our homes and church, and they permanently remind us of the importance of this special Christian holiday. Easter, the oldest Christian holiday means the resurrection of Jesus Christ, the passing from death to life.
Flowers bring us more joy and beautifies the places, they are a symbol of rebirth, abundance and renewal. Lilies, tulips, daisies, all make beautiful Easter floral arrangements, but we can use any flower we like for making bright, colorful bouquets.
Easter floral arrangement are sure to bring happiness and luck during the Easter holiday season and they are a nice gift for our friends and family.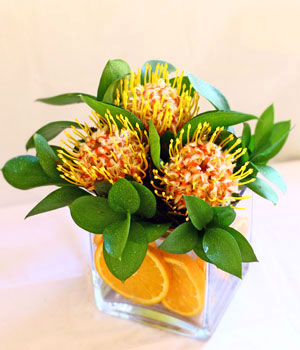 A few ideas of flower arrangements:

Flower baskets decorated with painted eggs

Multicolor flowers placed in glass vases

White flowers in colored vases

Rose petals in glass containers
If you wish to make Easter floral arrangements by yourselves, here are a few interesting combinations that can brighten your house and your Easter table:
Fill a glass container with marshmallows and cover them with innocent white roses and elegant pink callas; this may turn as well into a nice gift to send to a business partner or to a very special person

You can make a very beautiful flower bouquet using a variety of flowers to create a harmony of cheerful colors

In a glass cube put together halves of lemons, carnations and Gerberas in order to get a unique decoration

Exotic flowers and fresh oranges compose a special arrangement that brings joy and brightness to places

You can decorate a tier cake stand with many beautiful flowers for a special visual effect
A really unusual Easter floral arrangement is a floral cake made of daisies and mini carnations that is decorated with ribbons and candles.
You can play with flowers and colors the way you like, it's funny and at the same time, relaxing. Besides, the kids can help you and bring their own contribution to creating beautiful flower arrangements.
In case you don't wish to spend time making your own floral decorations, you can buy some from the local store or shop on line.
There is a great variety of flowers from which we can choose, so there is no reason for not decorating our homes on Easter.
We have to keep in mind that Easter floral arrangements are a must have and no matter what we choose, natural or artificial flowers, the result is all the same marvelous.